Your Emails PROVE That This Is the Moment
I've been getting some amazing emails lately.
I like to congratulate my readers when they write in with their successes. Yes, I make the recommendations … but it's always YOUR CHOICE to buy them. That's why YOU deserve the credit.
One gentleman wrote to me on Twitter saying that he originally put $28,700 into my recommendations. This was about three years ago. And he's been averaging … get this … $33,000 in gains per year.
Another gentleman tweeted me saying he subscribed less than a year ago … he has since turned $3,500 into $37,000. He literally made 10 times his money.

That may not sound like a lot of money to you. But think about the kind of person who only has $3,000 to invest. How do you think he feels now having 10 times more money? He broke through his ceiling … he's probably making plans he once would have never considered … having dreams that once were completely out of the realm of possibility.
If I was in his position, you'd have to pinch me to know I'm not dreaming!
But here's the thing…
I get a TON of emails like this!
I recently recommended selling a position in one of my other newsletters last week for a 431% gain in a stock called Immunomedics. We were in this position for less than one year (our average trade across all my services does about 21% in 120 days … which is mind-blowing)! I asked readers to tell me how they did. And you all crushed it!!! And not just on this one stock.
One couple wrote me saying they've doubled their account in the last three years. Incredibly, they had never traded on their own before that!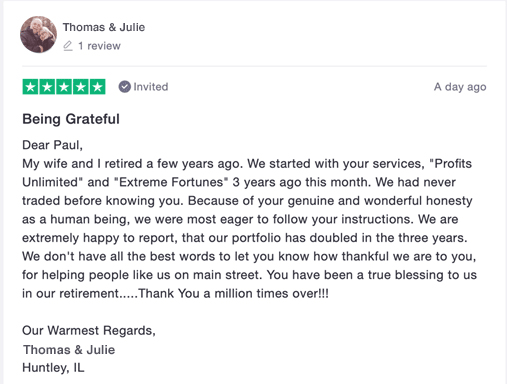 Another gentleman who has also been with me for three years since he started with $1 million.
Now, he's up to $3.5 million!!!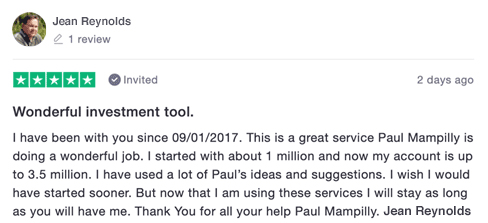 Then there's a woman who says she's more than doubled her portfolio over the last three years. Now she's crossed the $1 million mark! Yes, she is now a millionaire!!!

At the end of the day, I can't speak to every reader's experience. But considering again that our average position does about 21% in 120 days … I'm not surprised at all to see so many people doubling their portfolios in two to three years. It's messages like these that made me realize you are now ready to take the next step!
As incredible as the results have been over the last few years, I've been very conservative … at least by my standards.
Yes, some of my recommendations are more speculative than others.
But now I want to take it to the next level.
I'm going to show you how guys like me invest our personal wealth in the stock market.
I put this "secret portfolio" together to give you a chance to invest in the same kinds of opportunities I am.
These are bold, daring and RADICAL opportunities to invest in certain corners of the market that most people have never heard of!
Now, you have a chance to have a seat at the table.
With my secret portfolio, you'll have a chance to start investing like the pros do.
If you've been following me throughout the week, you already know the Three Guiding Principles I use for pro-level speculation.
I want areas of the market with the potential to grow many times their current size. Not just double or triple, but 10 times or more over the next decade. In short, the opportunity must be BIG.
I want opportunities that few people understand. For the chance at the biggest gains, you have to get in before everyone else.
I want to invest in businesses that are solving problems in their industries. Companies that aren't trying to make the world 10% better, but 1,000% better. I want bold, visionary firms that are doing things most never think to.
During tomorrow night's summit, I'm going to reveal the five areas of the market I'm targeting for these bold, speculative gains.
You've probably heard of some of them … but some of them are very out there! Again, these are opportunities many people will not understand before it's too late. If you can see the potential, you have a chance to get in before everyone else.
I want to thank you again for signing up to attend tomorrow night's summit.
It tells me you're ready to take the next step … and start investing like a professional, Wall Street-level speculator like me.
Get ready to level up.
Tune in to my Secret Portfolio Summit tomorrow night, September 22 at 8 p.m. EDT.
—Paul Mampilly